Published February 9, 2022
Congratulations to Collegium clarinetist and composer Camilo Aybar on the completion of his 5 movement Symphony No. 1 in D minor, "Pandemic".
"This is my most substantial and ambitious work yet. It is undoubtedly my most emotional as well, a piece of wide scope which captures the entirety of the COVID-19 global pandemic from start to finish."
Listen to it here:  https://www.camilocomposition.com/Symphony
00:00 – Opening Remarks
03:35 – I. Vivace "Outbreak"
19:15 – II. Lento "Lockdown"
30:05 – III. Scherzo: Allegrissimo "Restart Plan"
39:09 – IV. Tema con varizoni "Variants of Concern"
52:05 – V. Vivace "Vaccine"
Boulder Symphony in Colorado Premiere
After posting his symphony on MuseScore, the Concertmaster of the Boulder Symphony in Colorado contacted Camilo about performing the premiere on their 2022-2023 Season. The performance is slated for the fall- pandemic notwithstanding!
Camilo is busy preparing the final orchestral parts. We can't wait for his piece to be performed!
More about Camilo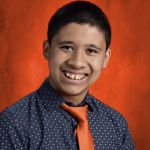 Camilo Aybar began studying clarinet at the VCM 3 years ago under Dr. Jack Edwards' instruction, after picking up the instrument in middle school band because of the encouragement from the band director, Jennifer Kelly. Today, he dedicates most of his time to music as it is one of the few things in life that truly makes him happy; he is currently studying under the instruction of Dr. Patricia Kostek.
This is his third year in the Young Artist's Collegium Program, where he finds performing in a chamber group to be highly rewarding and satisfying; a mutual passion for music has helped to strengthen his social connections, which he had lacked previously. Camilo also enjoys composing in his free time, as he loves to express his emotions and depict his experiences through music, all without the need for words. He has composed for the High Notes Flute Choir, the Greater Victoria Concert Band, members of the Victoria Symphony, and himself.