The Victoria Conservatory of Music is a place of possibilities.
Recently, while working to refresh the Conservatory's website, staff members were asked to describe what this place is about in just four words.
It was a tall order. The Victoria Conservatory is many things to many people: A confidence builder. A social routine. A legendary concert venue. A reminder to practice! A step toward a career, or a creative sanctuary. A pathway to self-expression. A crossroads of cultures. A lark for some, and medicine for others.
A place of many possibilities
Over 59 years, the Conservatory has built a reputation for excellence in music education, performance and therapy. It isn't a music school, it's five schools, with programs that span genres, instruments, histories, technologies, and abilities. The Conservatory is also a performing arts centre. Further, it is a wellness centre inside of an arts centre, with a leading music therapy clinic that delivers meaningful health benefits to well over a thousand participants and the families who care for them. And it is a public library, with extensive and rare collections.
Feature-length documentary
Ask local composer and performer Ari Kinarthy, a familiar face at the Conservatory since 2007, what's possible. Shooting wrapped this week on a feature-length documentary that explores Ari's story as an aspiring musician living with spinal muscular atrophy, and the technology that helps him create. Produced by Salazar Film, and scheduled for completion in Autumn 2023, the film shines a light on the incredible work that takes place here in the music therapy wing, and features students in the post-secondary program performing Ari's original compositions on stage.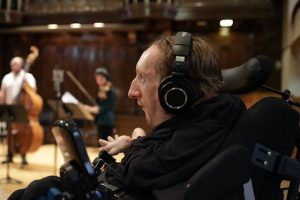 Investments for the future
As the 25th anniversary of the Conservatory's downtown site approaches in 2023-24, the website renewal launching in June is one of several important investments aimed at ensuring that your ongoing donor support is building a strong and inclusive centre for music.
Noticeable enhancements will include lighting upgrades in the Alix Goolden Performance Hall and the Metro Studio; a top-of-the-line electronic church organ in Wood Recital Hall, courtesy of Honorary Governor, Gary Karr; a newly refinished maple stage floor in the Goolden; and plans are in development for an elegant and heritage-appropriate set of ironwork gates around the property, allowing the Conservatory to look its best while improving visitor access.
The wish list for the historic building is long, and the potential for transformation is exciting. We are eager to hear from supporters who may want to play a role in restoring and modernizing this space in the years to come.
Scholarships and Bursaries
On a final note, it is a delight to share that the Conservatory's scholarships and bursaries program has never been stronger. Donors have come forward over the past five years to significantly grow the long-term funds that help people access quality music programs. Just last month in fact, VCM piano student and donor Roy Barnett made a visionary commitment to ensure that promising piano students advance to their maximum potential, through a transformational gift of $385,000. The Roy Barnett Scholarship in Advanced Piano will be hosted in perpetuity at the Victoria Foundation, and young pianists will begin to benefit from this award in 2024.
Here's to a future of many possibilities.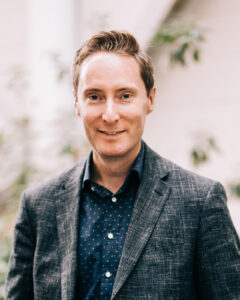 Nathan Medd, CEO