Published July 18, 2016
Introducing the Metropolitan Opera's new concertmaster Nikki Chooi. Nikki is a Victoria Conservatory of Music alum and at 27 years of age begins a one year contract in New York City. Nikki is also a
graduate of the Curtis Institute of Music and The Juilliard School, where he studied with Ida Kavafian, Joseph Silverstein and Donald Weilerstein, he is a former 1st prize winner at the Michael Hill International Violin Competition – and former laureate of the Queen Elisabeth Competition.
The VCM connected with Nikki immediately after his appointment for an interview.
Photo Credit: Simon Darby
Interview with Concertmaster Nikki Chooi
 Nikki, before we talk about your new position as Concertmaster for the Metropolitan Opera I would like you to breifly share with our readers your musical background and perhaps a few milestone moments growing up?
I started the violin at the VCM through the Suzuki programme – the VCM continued to be a large part of my life through the end of my high school years as I received piano, theory, and scale classes on top of my private violin lessons. Studying with Sydney Humphreys was a real turning point in my musical education as he taught me the essentials of learning fundamentals and the ability to learn quickly. Every spring, the Greater Victoria Performing Arts Festival was an exciting event for me. It gave me a goal to work towards and a sense of achievement when performing in front of an audience after months of diligent practice. Being selected as soloist for the Symphony Splash in 2001 was also a memory I always cherished – the thrill of performing live in front of 40,000 people was such an impact to me that I just knew I loved sharing music with people. As I look back at this point in my life, growing up in Victoria was special. It was a very safe, caring, and nurturing environment to develop as a child.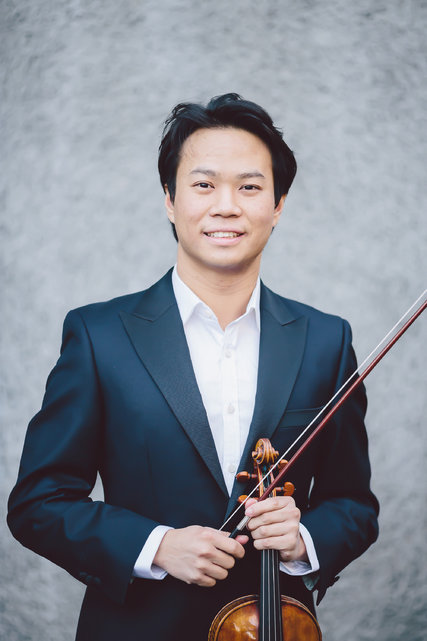 As a professional musician what are some of the real world lessons you've learned that you wish someone would have taught you as a young musician?
I would encourage young musicians to really strive to refine technique as much as possible. Once the fundamentals are reliable, it is a much smoother transition to learning repertoire. As one gets higher up in their musical education, I would encourage taking risks – really find your own artistic voice and path. The great thing about being an artist is that there is no black or white answer – the beauty lies in between the shades.
Both you and your brother Timothy Chooi are such inspirational figures to our VCM students share with us how your brother has influenced your playing?
It is really special to have a sibling in the same field, let alone being an amazing violinist. Timmy inspires me everyday by his work ethic, his fluid style of playing, and how he carries himself as a person. I am very proud to be his brother. I would say my favourite time to perform is when I share the stage with my brother. We have a blast together.
Please take us through the audition process for the Concertmaster position and where does this achievement rank in terms of your professional career?
It is an absolute honour to be part of the Metropolitan Opera Orchestra. I am extremely excited for the opportunity to sit concertmaster!
Finally, looking forward to the year ahead as Concertmaster for the Metropolitan Opera what challenges do you expect to face and what do you hope to learn from this experience?
I would say learning the vast amount of opera repertoire and performing them for the first time will be most challenging. However, I am really looking forward to this new and exciting chapter in my life!
Thank you very much for your time Nikki, everyone at the Victoria Conservatory of Music couldn't be more proud of you!
For more information about the VCM String programs that Nikki Chooi enjoyed see: