Chwyl Family School of Contemporary Music
Offering opportunities to learn and perform a wide range of musical genres from the traditional Folk through everything the past century has given us from Jazz to Rock, R&B, Funk, Soul, Reggae, Fusion, Indie, Electronica, and more.
About
The first of its kind in Canada, the Chwyl Family School of Contemporary Music transformed what began as a traditional conservatory with classical roots into a hub of music education with a truly contemporary scope. This is reflected not only through the many diverse musical genres and instruments available for study, but also through the flexibility our faculty have to accommodate many styles of learning, including those learning exclusively by ear, the self-taught, and the "lone wolves", to name a few.
Instruments
Our professional coaches and mentors work together with students to help them develop their own unique relationship with music, be it through jazz, rock, folk, bluegrass, indie, R&B, funk, soul, electronica, and something entirely new. Disciplines include acoustic and electric guitar, electric and upright bass, fiddle, keys and synths, drums and percussion, DJ, vocals, band-building, and stage presence.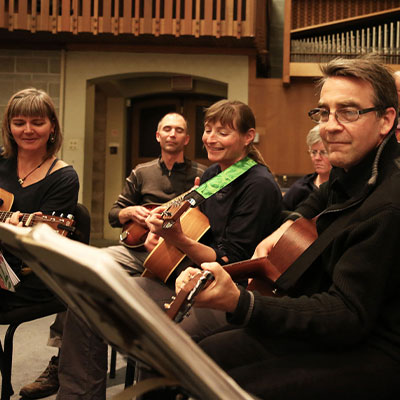 What We Offer
Performance opportunities
Solo performance
Group performances
Special Award: Celebrate Youth Award for Emerging Young Contemporary Music Artists
This new annual award focuses on celebrating youth, especially the emerging singer-songwriter, in support of their journey towards a successful career in the music industry. The award involves a competition with a two-round application/audition process, and with 1st and 2nd place winners receiving a cash prize of $1,000 and $500 respectively, as well as having the opportunity to perform live in Daniel Lapp's Joy of Life concert in Alix Goolden Performance Hall.
"We are thrilled to offer instruction in a wide range of musical genres for all members of the community. It has been the joy of my life to explore music in many forms and genres in a great variety of contexts, and we are happy to offer these opportunities to you!"
Daniel Lapp, Artistic Director, Chwyl Family School of Contemporary Music
Daniel Lapp
Artistic Director
Joshua Amendt – Moylan
Guitar
Notice: All programs within the Chwyl Family School of Contemporary Music do not require approval by the Private Training Institutions Branch of the Ministry of Advanced Education, Skills & Training and as such have not been reviewed.