Alix Goolden Performance Hall
An award-winning venue in the heart of downtown Victoria.
Historical Elegance
Built in 1890, Alix Goolden Performance Hall was designated a Heritage Property in 1979 by the Victoria Heritage Foundation. The hall features the original 40-foot vaulted ceiling, filigree iron railings, carved wooden pews, and intricate stained-glass windows further enhancing the beautiful natural acoustics and unique experience this space offers concertgoers.
Alix Goolden Performance Hall has hosted many acclaimed international performers, authors, and world class concerts while also serving the needs of Victoria Conservatory of Music students, faculty, and the local community.
Performers who have graced the stage include Bruce Cockburn, Emmy Lou Harris, Shakey Graves, Dan Mangan, Burton Cummings, SYML, Jeremy Dutcher, Ron Sexsmith, Natalie MacMaster, Anton Kuerti, Richard Margison, Tafelmusik, Margaret Atwood, Jodi Picoult, Shane Koyczan, Diane Gabaldan, Michael Ondaatje, and David Suzuki.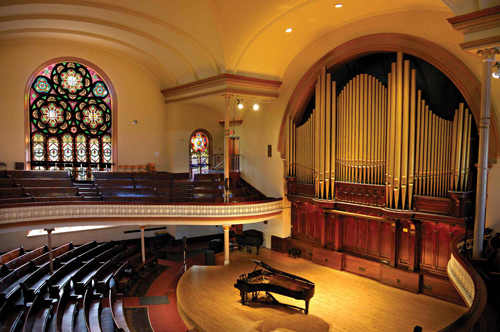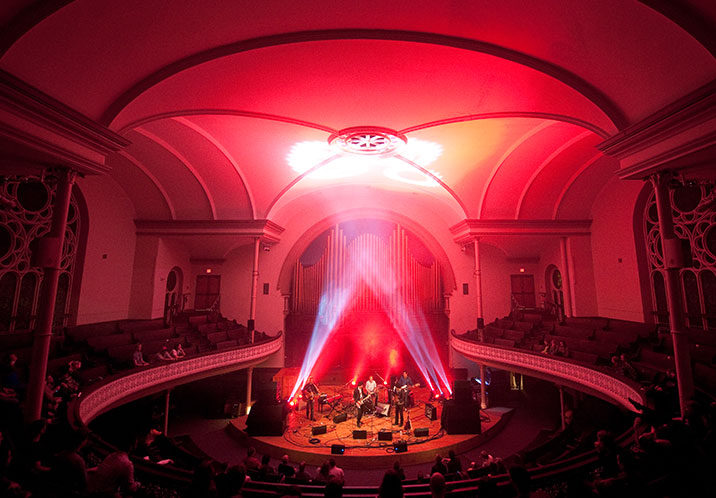 Seating
Capacity: 800(Main Floor: 440; Mezzanine Level: 360)
General seating in original padded heritage pews, which curve 180º around stage front
Stage
Semicircular cushioned maple hardwood thrust stage 40′ wide by 28′ deep
Backstage
500 sq. ft. green room off the lobby with minor kitchen facilities
Sound and Lighting
Coloured Stage lighting and P.A. system (Detailed technical specifications available upon request)
Piano
9 foot Concert Grand Piano
Other Services
Venues Manager and volunteer front-of-house staff
Rentable stage equipment
Public washroom facilities
Wheelchair accessibility
Concession
ATM
Mrs. Alix Goolden
The Victoria Conservatory of Music was founded in 1964 by a small group of visionaries, led by Mrs. Alix Goolden, who recognized a need for a music school to train young musicians to sustain regional orchestras who were, at the time, struggling to attract quality musicians. The then-named Victoria School of Music opened its doors with 8 students, and through her foresight and commitment to music in our community, Alix Goolden helped grow and shape the Conservatory into what is today the largest centre for music education in Western Canada.
When our current building was purchased in 1997 there was no more appropriate person to honour than Mrs. Alix Goolden, and her name lives on as one of the finest concert halls in the region.
History
The Alix Goolden Performance Hall was once a church sanctuary built in 1890 by local architect, Thomas Hooper. Thomas Hooper was commissioned for this project after his completion of a similar project on Homer Street in Vancouver. The Community wanted the most up-to-date building possible so they sent Hooper to the booming cities back East where architecture was embellishing a new Romanesque Revival Style headed by Architect, Henry Hobson Richardson. Hooper brought these architectural influences back to the West Coast and this propelled his career, and reputation, as one of the advanced local architects of the time.
The Alix Goolden Hall façade and exterior is typical of this Romanesque Revival Style, sometimes referred to as "Richardsonian Romanesque", but there is also evidence of the Scottish Baronial Revival influences. The Richardsonian Romanesque style moves away from the Gothic style of pointed arches to curved arches reminiscent of the low, heavy arches we see in Classical Roman architecture. Other Romanesque feature include the rounded towers with cone shaped roofs, the short polished granite columns at the main entrance doorway, multistory complex roofing, and the constructed rough-faced square stones. The ashlar stones were quarried just west of Saltspring Island and add to the heavy "massing" of the exterior. The structure would have been grand and imposing to the late 19 Century city of Victoria vying for dominance of the cityscape with Craigdarroch Castle (Built 1890), which was also built with many of the same Baronial and Romanesque Revival architectural influences.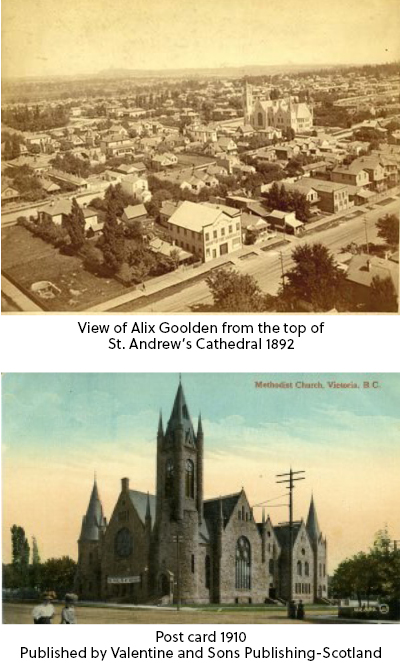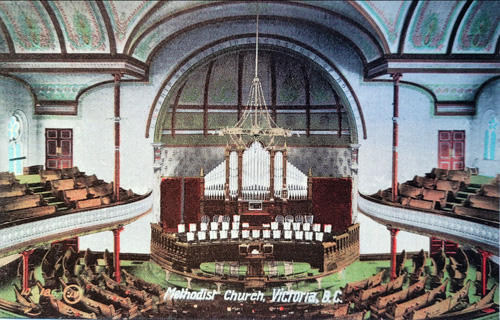 venues rentals
Contact Us
Contact our Venues Manager to discuss your event!