The history of music is ancient, however more has changed in the world of music in just the past 100 years than all of music's prior history combined. The Victoria Conservatory of Music began as a traditional Western Classical music school in 1964 and has upheld its high standard of music education to this day, while also more recently expanding the breadth of programming offered. Today we strive to offer a diverse range of music programming that, together with its world-class Music Therapy program, embraces the musical interests and needs of the modern multicultural community we serve. We have six program areas: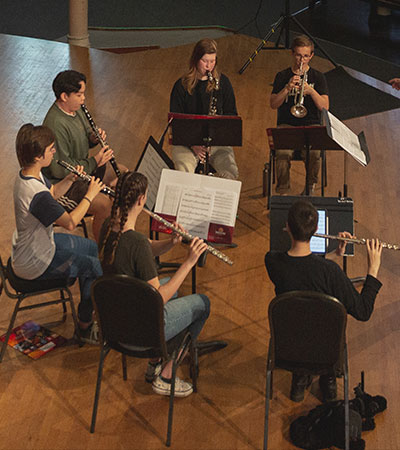 Ann & George Nation Conservatory School of Classical Music
Originally the core of the Victoria Conservatory of Music, this program area is named in recognition of our founder Mrs. Alix Goolden's daughter Ann and her husband George, who continued Mrs. Goolden's legacy of support for the Conservatory for over 50 years. The "Conservatory School" consists of Keyboard, Strings, Winds and Brass, and Voice Departments, and includes our highly acclaimed Young Artists Collegium and Opera Studio programs. Students exploring the Western Classical tradition, with its inherent rigor and highly cultivated artistry, are inspired to strive for their best in performance while developing a deep appreciation for this music, whether continuing to a career in music, or simply enjoying a meaningful life-long relationship with the music they love.
Chwyl Family School of Contemporary Music
This new school is devoted entirely to the study and performance of Contemporary music, the first of its kind in Canada! Professional coaches and mentors work together with students in any popular-contemporary genre, including jazz, rock, folk, bluegrass, indie, R&B, funk, soul, electronica, and more. The school prides itself on accommodating many styles of learning, including those learning exclusively by ear, and the self-taught, the "lone wolves," to name a few. Disciplines include acoustic and electric guitar, electric and upright bass, fiddle, keys and synthesizers, drums and percussion, DJ, recording and production, vocals, band-building, and stage presence.
Launched in 2014 as part of the Conservatory's 50th Anniversary celebration, and with the very generous assistance of former Board of Governors Chair Ed Chwyl and his family.
School of Music Technology and Creativity
Since 2015, the School of Music Technology and Creativity offers innovative programs that open the mind through creativity, building on a solid foundation of traditional approaches and methodologies that have inspired Conservatory students for over 50 years to look deeper into music, to discover how it all works, and to create their own. This school offers classes and lessons in Music Technologies, music writing and arranging for all genres, including Songwriting, and scoring music for film and gaming. With a state-of-the-art Music Technology Lab and Recording-Listening Control room, students have hands-on access to the tools of today's 21st century musician, as they learn from our professional faculty, and discover a wide range of pathways to potential careers in music and other Creative Industries.
Postsecondary Studies
The Department of Postsecondary Studies, in partnership with Camosun College, offers multiple pathways to a successful career as a professional in the music industry: performer, teacher, collaborator/creator, producer, music technology specialist, or gaming sound designer, to name a few. With advantages that include intimate class sizes, one-on-one instruction, access to masterclasses with world renowned artist mentors, customized program options, and free access to special events and opportunities, our Postsecondary programs offer students the unique opportunity to explore and develop their hidden potential within a safe and close-knit community of professional instructors and staff dedicated to helping every student succeed.
Department of Music Therapy
Existing for over 25 years at the Victoria Conservatory of Music, the Music Therapy Department led by Dr. Johanne Brodeur has grown to become the largest programs of its kind in North America, serving a wide range of clients including many involving complex care. The non-verbal, creative, and affective nature of music facilitates contact, learning, self-expression, communication, and growth. Music Therapy sessions meet the needs of children as young as 18 months old, to the elderly; those of all ages with exceptionalities, conditions, or illnesses, and to improve the quality of life for all.
Early Childhood
"Let's start at the very be-gin-ning…It's a very good place to start…The first three notes just hap-pen to be….Do-Re-Mi… " *
Providing a child with a foundation in music is one of the most valuable things a parent can do. Studies show that when children take part in music classes, their social and cognitive skills are impacted in extremely positive ways. Music facilitates learning, instills respect and pride, and increases self-esteem and positive social interaction. Discover these benefits and the magic of music, by starting your child's lifelong journey in our wonderfully creative and innovative collection of music classes for infants, toddlers, and young children.
* Oscar II Hammerstein / Richard Rodgers | Do-Re-Mi lyrics © Concord Music Publishing LLC