Robin and Winifred Wood Recital Hall
A bright, inviting performance space for intimate events.
Intimate Ambiance
The 100-seat Robin and Winifred Wood Recital Hall, formerly the Spencer Chapel, provides space for small-scale music performances, solo recitals, lectures, and rehearsals.
This charming space features zig-zag walls and stained-glass windows depicting uniquely West Coast scenes: a logging truck zooming down a mountain road; a fishing boat at anchor; bathers enjoying the beach. The hall is in constant use, mostly for Victoria Conservatory of Music needs such as postsecondary classes and student recitals.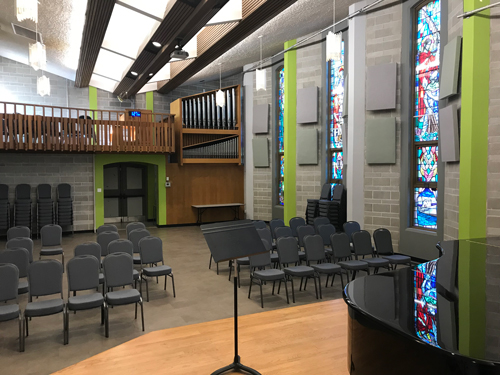 Seating
Capacity: 100 (Conference chair seating)
Stage and Floor Space
Stage:
9 x 30 or 270 square feet
27′ at widest point by 15.5′ deep
Hardwood stage
Floor area:
30 x 39 or 1140 square feet
The floor is level
Sound and Lighting
Coloured Stage lighting and P.A. system (Detailed technical specifications available upon request)
Piano
Yamaha 7 foot Concert Grand
Other Equipment
Ceiling mounted HD projector with backstage projection wall/screen (13 x 20)
Performance/conference chairs, music stands, tables, podiums and lecturns
Public washroom facilities
Wheelchair accessibility
Robin and Winifred Wood
The hall is dedicated in memory of Principal Emeritus Robin Wood (d. 2004) and Vice Principal Emerita Winifred Scott Wood (d. 2012), who together made an outstanding and lasting musical contribution to the Conservatory and our community. In 1964 when their musical careers were flourishing in London, the young couple were invited to help the newly-opened Victoria School of Music gain momentum. Robin and Winifred dedicated their lives to the Conservatory, and their legacies live on through the countless students they taught – some of whom remain as instructors here today.
venues rentals
Contact Us
Contact our Venues Manager to discuss your event!