Music Therapy
Music Therapy breaks through the barriers that prevent individuals of all ages from achieving their full potential.
About
Music Therapy is the skillful use of music as a therapeutic tool to restore, maintain, and improve mental, physical, and emotional health. The nonverbal, creative, and affective nature of music facilitates contact, learning, self-expression, communication, and growth.
Our sessions meet the needs of children as young as infants to the elderly; those of all ages with exceptionalities, conditions, or illnesses, and improve the quality of life for all. Children, adolescents, adults, and the elderly may benefit from Music Therapy. Many participants have become familiar faces as they visit on a regular basis, year after year. Others come for a phase in their lives.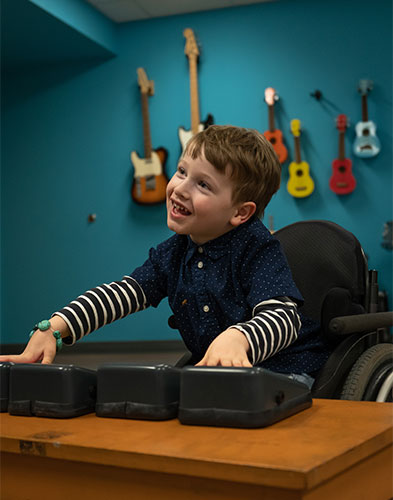 Who is Music Therapy for?
Children, adolescents, adults, and elderly with the following may benefit:

Developmental challenges
Physical challenges
Autism Spectrum disorders
Sensory impairments
Learning difficulties
Brain injuries
Conduct and/or behavioral disorders
Recovery of Mental Health from troubling life events, substance abuse, and other illness
Strokes/Alzheimer's/Dementia
Palliative care
What happens in Music Therapy sessions?
Music Therapy studios are equipped with hundreds of instruments including grand pianos, large and small percussion instruments (ie: drums, chimes, handbells, wood block, electric and acoustic guitars, etc.) therapeutic devices (ie: adapted mallets, Stretchy band, etc.) and electronic equipment including keyboards, computers, mics, and recording capabilities.
Musical activities are carefully designed to meet individuals' needs and achieve therapeutic outcomes. Therapists are trained to use signing, picture exchange, and other communication models if requested.
Examples of how Music Therapy can help:
Singing improves communication, speech and language skills, articulation, breath control, expression, and reception
Playing instruments increases Gross and Fine motor skills such as dexterity, coordination, balance, range of motion, strength, as well as social skills like active participation and interaction, self-esteem, and cooperation
Rhythmic movements and dancing facilitates mobility, agility, balance, respiration patterns, muscular relaxation, spatial relationships, and endurance
Improvising offers a creative and nonverbal means to expressing feelings. Through vocal, instrumental and/or movement improvisation, one has the opportunity to make choices and deal with structure in a creative way
Composing develops cooperation, learning and sharing ideas and experiences, and increases social skills
Active Listening activities provide a stimulating way to develop cognitive skills such as attention, memory, and auditory perception skills
Locations
Music Therapy sessions are offered at our two locations, Downtown Victoria and Westhills in Langford, and now online!
Sessions may also take place in such facilities as hospitals, group homes, long-term care and independent living facilities, hospice, geriatric care facilities, nursing homes, rehabilitation centers, and schools.
Programs and Cost
Individual in-house sessions purchased incrementally in 30-, 45- or 60-minute durations based on the therapist's set hourly rate ($89 – $100/hr)
Institutional/ community sessions ($69 per hour plus mileage fee)
Summer Camp: These programs are offered for free but have limited space available
Sessions lengths are set depending on needs and challenges as well as age of participant(s). The hourly rate is the same for private and group sessions. Programs run continuously throughout the year.
---
The following programs are also offered on request:
Neurological Music Therapy for patients recovering from a stroke
Relaxation Sessions
Music Visualization and Imagery Sessions
The Bonny Method of Guided Imagery and Music Sessions (GIM)
Creative Arts Explorations
Hand Bell Choir (Suzuki Tone Chime Bells)
Senior Music Therapists are also available for speaking engagements, keynote addresses and workshop presentations.
Contact Us
Learn more about what custom session may work for you or a loved one.
Dr. Johanne Brodeur
Music Therapy Department Head
[email protected] | 250.386.5311 ext. 2030
"My foster son has literally woken up and smiles every week when I tell him "it is your music lesson today". Some of his songs have been so passionate, we have cried over them. "
Parent of Music Therapy Student
Dr. Johanne Brodeur
Department Head
Julien Amar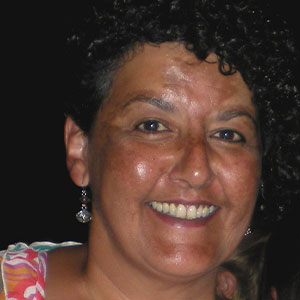 Kim Brame
Noa Kay
Multi-Sensory Room
Our state-of-the-art Multi-Sensory Studio offers a peaceful retreat for Music Therapy participants. This is a place where one can create, express themselves, find respite from their daily anxiety or pain, meditate and use guided imagery techniques. The studio equipment was carefully chosen to meet very specific needs and includes laser-projected lighting, a Somatron vibro-acoustic recliner, flat-screen TV, bubble tower, and fibre-optics.
Innovative Technology
The Soundbeam is an award winning touch-free device that uses sensor technology to translate body movement into music and sound. It gives children and adults the opportunity regardless of their impairments or disability, to play music.
The Soundbeam uses ultrasonic sensors to detect movement – big or small – and translates this into sounds. It comes with pre-loaded 'soundsets' that range from tracks which allow the exploration and performance of different genres, from blues and classical to more improvisational soundscapes and other musical ways of playing. It is completely programmable so that the user can make changes to personalise the soundsets and save them. Soundbeam 6 has a wealth of instruments, backing tracks and sound effects to choose from.
Meet Ari
Ari Kinarthy discovered his creative talents through the innovative Music Therapy Department at the Victoria Conservatory of Music. For Ari, who has spinal muscular atrophy (type 2), a condition that has affected his muscles since birth, his work with Allan has been life-transforming.
He has been working with VCM Music Therapist Allan Slade since he was 17 and now at the age of 31, Ari is an accomplished musician/composer who makes music with a computer and the Soundbeam using movements he makes with his wheelchair.
Watch the performance here:
How to donate
As home to one of the largest and most renowned music therapy programs in North America, we provide ground-breaking therapy to people of all ages from infants to seniors, and the program's positive impact radiates far and wide. Donations to the music therapy program ensure we can continue to help vulnerable individuals in our community.
For more information, please contact our Development office at [email protected] or 250.386.5311
Sponsors
We gratefully acknowledge our supporters and partners:
And more private donors and friends of Music Therapy