The Victoria Conservatory of Music provides high quality music education through its Community Outreach program to a variety of schools in and around Greater Victoria. With a prime focus on assisting schools serving students in marginalized communities, these initiatives help ensure that all children have access to the many benefits music education has to offer.
These programs are offered through the support of generous donors, grants, and sponsors.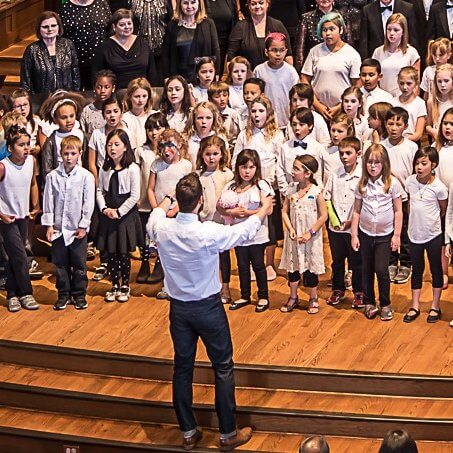 ChoirKids
ChoirKids is a non-auditioned choir program delivered through the Victoria Conservatory of Music's Community Outreach into local Elementary schools, with prime focus on schools serving children in marginalized communities. ChoirKids fosters a love for singing and appreciation for all music. No experience is necessary, with all music being learnt by ear, and including at times light choreography.
Children's Journey into Music
The Children's Journey into Music program is presented through the Victoria Conservatory of Music's School of Music Technology and Creativity. It focuses on providing students with a range of creative experiences through which they are taught the basics about music, and can be in the role of Creator from the first day!
The Conservatory provides Music Technology-based software programs run on MS SurfacePro tablets, allowing students to:
discover new sounds by recording existing sounds in their environment
manipulate sounds using digital editing software
mix and sequence to produce elements
organize elements using rhythm and "beats" to form a unique composition or soundscape
Additional creative activities balance the use of technology with exploring the use of sounds from our natural world including those produced by musical instruments.
This program is typically delivered to four to six schools, serving one to three classes per week of up to 20 students per class, and over a total of up to 30 weeks during the school year.
To learn more and apply for a partial or 100% financially subsidized offering, contact the Dean's Office