Eric and Shirley Charman Bursary
About the Bursary
For over 60 years, Eric and Shirley Charman were devoted to ensuring that young musicians were supported, nurtured, and heard throughout our community. In honour of their lifelong commitment to music and emerging young musicians, the Eric and Shirley Charman Young Musicians Bursary Fund was established to honour their enormous contribution to the arts and music education excellence, and to ensure that every young person could pursue their musical dreams regardless of financial circumstance.
The fund has grown to $1,225,000 as of April 2023 and will continue to help young musicians for generations to come.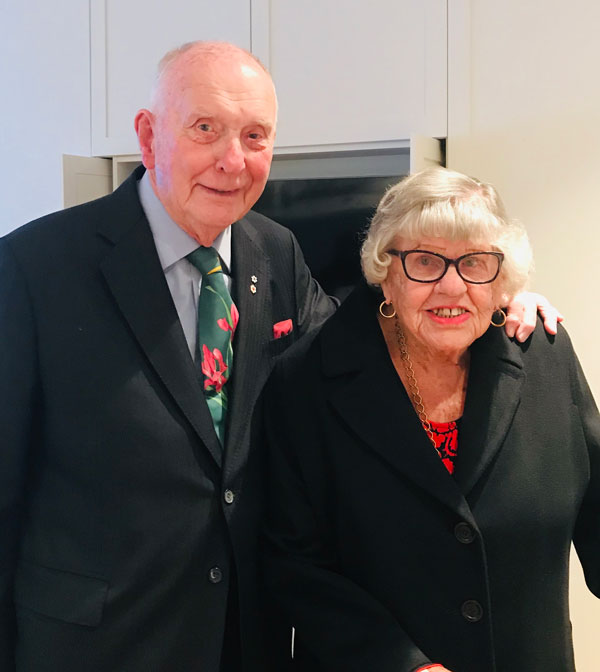 Eligibility Criteria
Successful applicants who are 25 years of age and under will be awarded the Eric and Shirley Charman Young Musicians' Bursary, which can be applied as a 30% discount on most registrations. This will be in conjunction with a Victoria Conservatory of Music bursary for a combined 60% discount on most registrations.
How to Apply
Complete our online Bursary Application. Incomplete applications will not be considered, and a separate application must be submitted for each student. You can apply for a pool of bursaries and/or the Eric & Shirley Charman Bursary with this application.
Bursary Application
Application Periods and Deadlines
Visit the Bursary Information page for complete details on application periods and deadlines.
Learn more
About Eric Charman
March 5, 1932 – March 6, 2020
Eric Charman has been the undisputed chief rallying force for the arts in Victoria for the past 60 years and the Victoria Conservatory of Music was fortunate to be one of numerous arts organizations to benefit greatly from his vision and tireless work.
Eric was a champion of the Conservatory from the very beginning, when Mrs. Alix Goolden first invited a few friends to her house in 1963 to promote her vision to start a music school to train young musicians to help sustain the Victoria Symphony – Eric was all in. In 1998 he emceed the Grand Opening Gala of the Alix Goolden Performance Hall named in Mrs. Goolden's honour, now one of Victoria's most loved performance venues.
In honour of Eric's 85th birthday in 2017, his closest friends and colleagues established the Eric and Shirley Charman Young Musicians Bursary Fund at the Victoria Foundation to support students at the Conservatory who required financial support to pursue their musical dreams. Eric, who could never afford music lessons when he was young, fuelled his passion by ensuring that music was available to all youth in our community regardless of their financial circumstance.
Eric Charman had a soft spot for young people looking to enhance their learning of music and other fine arts. He believed passionately in the ability of art to inspire hope and comfort in people of all ages. He dedicated his life to supporting the arts through fundraising and awareness events, regularly giving emerging artists valuable exposure and encouragement. He and his late wife Shirley jointly hosted countless receptions and parties, for a variety of community causes and charities with special emphasis on young students in the musical arts.
Eric Charman was a true champion for the arts in the capital region. His legacy will live on in perpetuity at the Victoria Conservatory of Music with the Eric & Shirley Charman Young Musicians Bursary Fund that pays tribute to his steadfast commitment to a vibrant musical community in Victoria. The richness of his legacy provides Victoria's arts community with the foundation to thrive for generations to come.